Thanks to Helga from Dystopia for the Curly stills and her sister for giving me the html code for the sidebar layout! Visit her sister's great page at..
Thanks to Beeper King (ya know who ya are *wink*) for some of the Curly wavs on the site
Thanks to well.. certain someone who wants to remain Anonymous for the Curly screen grabs on my site
Thanks to Don Del Grande from Don's Hey Arnold Page for the Curlimillio screen grab
Thank soo much to Tyoria at Tyoria's Hey Arnold Image Gallery for some Curly screen grabs on my site!
Thanks to John from John's Hey Arnold Site for letting me use his Curly screen grab
Thanks to Diane from Arnold 4ever for letting me use her Curly stills and linking my site
Thanks to Dan Grekov from Unofficial Quack Pack Page for making me couple Curly image stitchings, and coloring in Queen Amidala drawing.
Thanks to Maddie who entertains me with e-mails, wanted to be credited in here, and was the 1st person to sign the guestbook! hehehe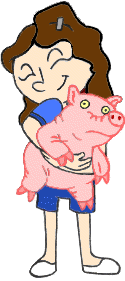 Oh yea! And thanks to my wonderful real life curly wurly poo for just being there for moi! *smooch*
(hehe Didn't think I'd say something about your support huh cutiepie?)
PIGGY WIGGY!!!!!!!!!!!!
For those of you that have no idea what I'm blabbing on about.. just ignore me! te-he!